Cooking recipes – Continental and Indian lunches for a hearty meal
Pork Shogayaki [Japanese cuisine]: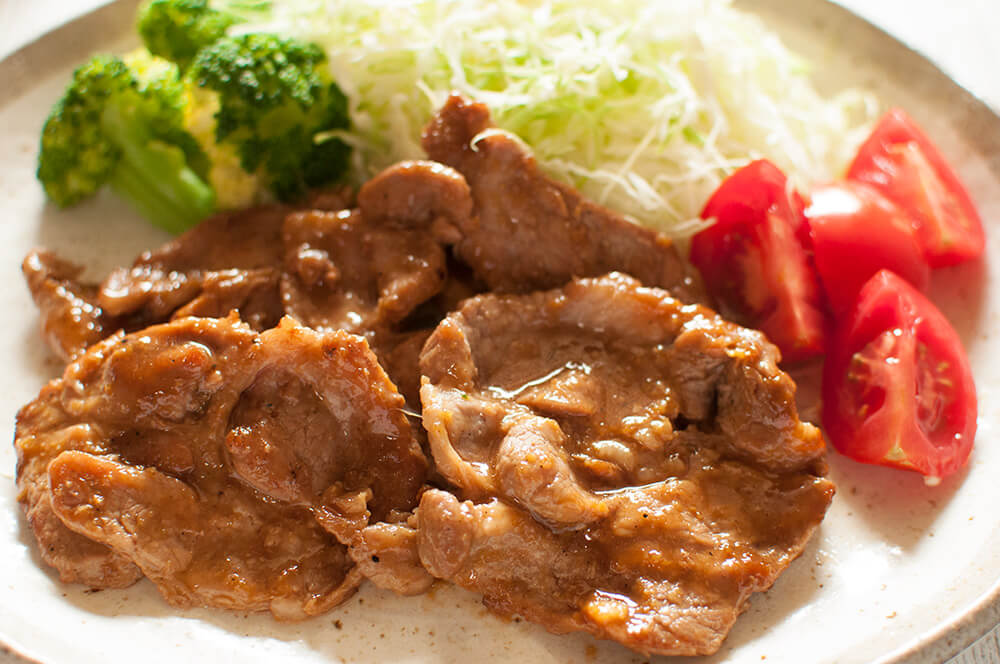 Image source
The name of the cuisine contains 'Shogayaki', the Japanese term 'Shoga' means ginger and 'yaki' means to grill or fry. Therefore, this dish is essentially pork meat grilled or fried with ginger. It is the second most popular Japanese cuisine with pork meat after Tonkatsu. The cooking recipe of this dish is as follows:
Ingredients:
250 gram thin pork shoulder cut
Cabbage
Tomato
Mayonnaise
Cooking Wine
Grated Ginger
Rice

Seasoning Sauce:
2.5 Tbsp Soy Sauce
2 Tbsp Cooking Wine
1 Clear Wine
0.5 Tbsp Minced Ginger
2 Tbsp Grated Onion

PREPARATION:

1. 300 gram of shoulder cut meat should be thinly cut and seasoned.
2. Mix 0.5 units of sugar, 0.5 units of minced ginger,2 units grated onion, 2 units of water, 2 units of cooking wine and 1 unit of clear to make seasoning sauce.
3. Put oil on the heated pan and cook the shoulder cut meat until it's cooked to about 80%.
4. After adding seasoning sauce, reduce the meat in low heat.
Chicken BBQ with rice [Chinese Cuisine]:
Image source
Of the cooking recipes mentioned in this article, this is the quickest to make. This recipe usually involves parts or entire meat of a chicken being grilled or barbequed. A variety of spices or barbeque sauce is used for the marinade. Some Asian countries also use soya sauce for marinating. Serving it with rice makes for a nice balance of flavours. The cooking recipe of this dish is as follows:
Ingredients:
For 4 servings
3 chicken breasts
Salt according to taste
Pepper according to taste
100 g of corn flour
1.5 L of oil
1 onion
2 bell peppers
2 tablespoons of soy sauce
2 tablespoons of red wine vinegar
2 tablespoons of tomato paste
2 tablespoons of sugar
100 mL chicken stock
200 g of pineapple
CORNFLOUR PASTE:
50 mL water
cornflour, as needed
EGG WASH:
Preparation:
First, the chicken should be seasoned with salt and pepper
Cut the chicken into bite sized pieces
Each chicken piece must first be dipped into the egg yolk and then in cornflour.
The oil should then be heated until 190 degree Celsius. After the oil is hot, fry the chicken pieces for about 5-6 minutes, until crispy with a slightly golden colour and cooked throughout.
The fried chicken is to be drained on a plate covered in kitchen roll.
Add one tablespoon of oil in a big saucepan and fry the onions and peppers
Mix together and stir the soy red wine vinegar, chicken stock, soya sauce, tomato paste and sugar. Cook it for 2 more minutes.
Add cornflour slurry to the mixture.
Keep stirring and cooking until the sauce thickens.
The pineapple and the chicken must be stirred in the pan until fully coated in the sauce.
Serve the chicken with hot rice.
Paneer Butter Masala [Indian Cuisine]:
Image source
This is a vegetarian dish that originated in Punjab. The primary information about cooking this recipe is that the paneer cheese is cooked in a creamy and spicy sauce. The butter in the title is apt because this recipe does need a buttery sauce which beautifully enhances the taste.
Ingredients:

Tomato-cashew spice recipe:
1 tbsp of butter
½ cup of Chopped Onions
1 tbsp of ginger and garlic paste
½ a cup of chopped tomatoes
Salt to taste
2 tbsp of Cashew nuts (soaked)
Rest of the ingredients:
1 tbsp of Butter
1 bay leaf
4 cloves
1 small cinnamon stick
1 tsp of chilli powder
½ tsp of turmeric powder
½ tsp of coriander powder
½ tsp of garam masala
1-2 of cups water
Salt to suit taste
A Pinch of sugar
¼ a cup of fresh cream
2 tsp of Kasuri methi
300 gm of Paneer cubes
Method:
Pan-fry the paneer pieces until the sides are visibly charred
For making the tomato-cashew spice paste, coat pan with butter ( in a little excess) and add the onions then add ginger and garlic paste. Sauté this mix for 2-3 minutes.
Next, add the tomatoes and cook until most of it's moisture evaporates.
Next, add the cashew nuts and sauté on low flame for 2-3 mins. Once this mixture has cooled down, grind to make a paste.
In another pan sauté the whole spices followed by the powdered spices. Let them cook for 2-3 minutes while constantly stirring. Add the tomato-cashew paste to this mixture and mix them well.
The last step is to add the paneer to this butter masala paste followed by water and cream. Garnish with Kasuri methi.